GENDA Inc. (Headquarters: Minato-ku, Tokyo, Representative Director and Chairman of the Board: Nao Kataoka, Representative Director and President: Mai Shin ; hereinafter "GENDA") has been releasing a progress report on the GENDA Group's store development . The report mainly covers topics such as changes in the number of stores and locations, and new store openings. Please note that the figures are preliminary and may be revised in the future.
■Number of stores and offices (as of September 30, 2023)
Number of stores: 261
Number of mini-locations: 266
■Topics
Following the acquisition of Kiddleton, Inc., a U.S. corporation, as a wholly owned subsidiary, the number of stores and mini-location sites in North America has increased dramatically. We will continue to pursue our growth strategy in the North America area.
In Japan, GiGO opened its flagship store "GiGO Sohonten" along the Sunshine 60 Street in Ikebukuro on September 20. With the store concept of "a stage where anyone can become the main character," we offer a wide variety of contents.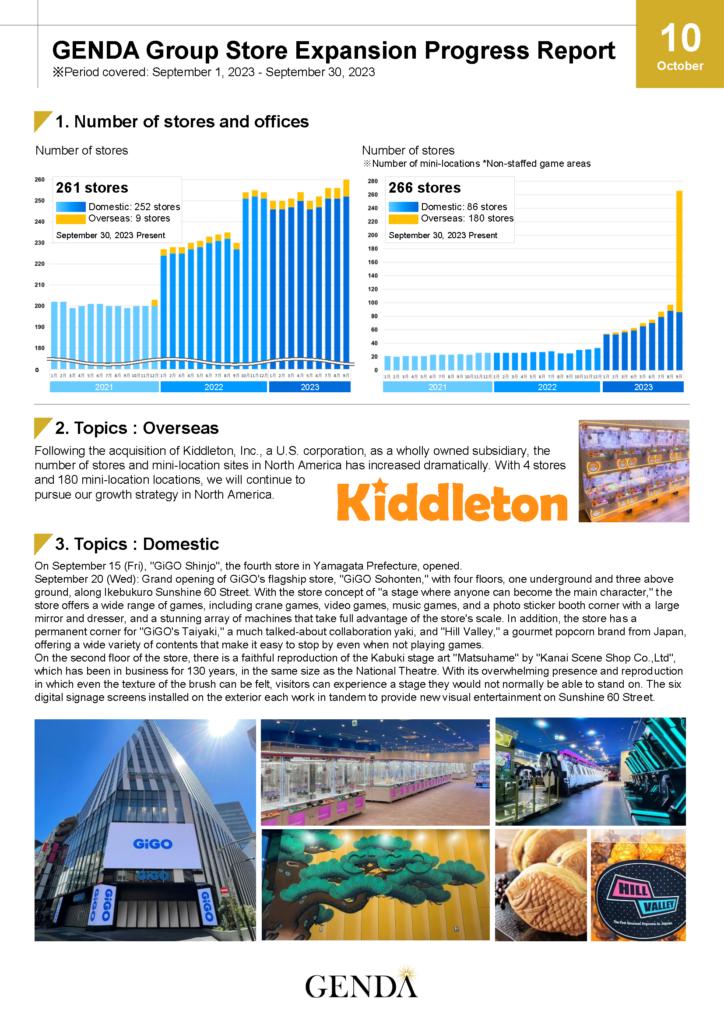 Company Profiles
GENDA Inc.
Representatives: Representative Director and Chairman of the Board: Nao Kataoka, Representative Director and President: Mai Shin
Address: 17th floor, Tokyo Shiodome Building 1-9-1 Higashi-Shinbashi, Minato-ku, Tokyo
Date of Establishment: May 2018
URL: https://genda.jp/en